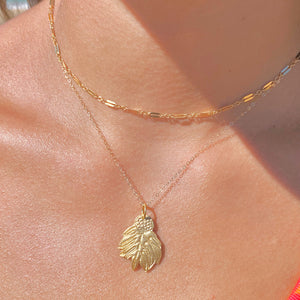 'Ulu (Breadfruit) Necklace (14k Gold over Sterling Silver)
Regular price $76.00 Sale
'A'ohe ʻulu e loaʻa i ka pōkole o ka lou. No breadfruit picking stick is too short. Meaning there is no success without preparation.
One mo'olelo tells how Kū, the Hawaiian god of farming and fishing, transformed himself ito an 'Ulu tree to feed his family in a time of famine. Grateful for Kūʻs sacrifice, Hawaiians reguard 'Ulu as a symbol of resilience, perserverence, and security.
An ʻUlu tree is often planted when a child is born to ensure a lifetime of nourishment
'Ulu was brought by Hawaiians as a major food source and continues to be prepared many ways. It was also used for medicinal purposes, to catch birds, for making and caulking canoes, making surfboards, and much more.
Make a statement with our 'Ulu Necklace
Our 'Ulu Pendant is approximately 1 inch long
The necklace is adjustable from 16 to 18 inches
Pairs perfectly with our 'Ulu Earrings
Also available in 14k Gold over Sterling Silver
A portion of all sales go to organizations that protect native Hawaiian plants and animals